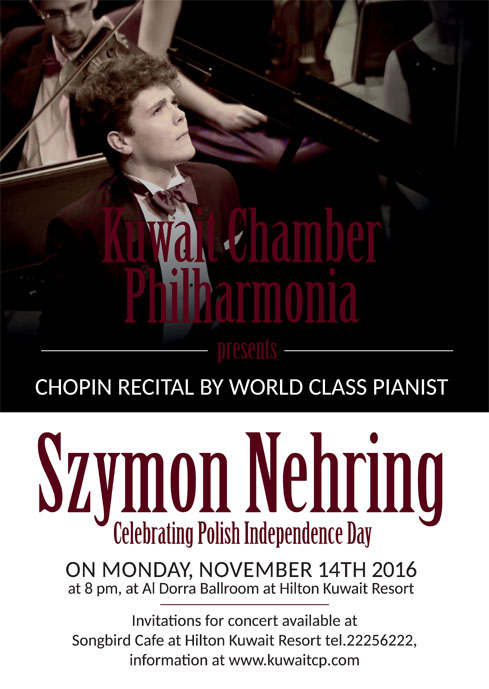 ---
PROGRAM

FRYDERYK CHOPIN

- Mazurkas Op. 33:
Mazurka in G sharp minor, Op. 33 No. 1
Mazurka in C major, Op. 33 No. 2
Mazurka in D major, Op. 33 No. 3
Mazurka in B minor, Op. 33 No. 4
- Etude in C sharp minor, Op. 25 No. 7
- Etude in A minor, Op. 25 No. 11
- Etude in C minor, Op. 25 No. 12
- Ballade in G minor, Op. 23
- Barcarolle F-sharp major, Op. 60
- Nocturne in G major, Op. 37 No. 2
- Nocturne in A flat major, Op. 32 No. 2
- Waltz in A flat major, Op. 34 No. 1

---
Szymon Nehring is one of the most gifted and promising pianists of the younger generation in Poland. His remarkable performances at the 17th Fryderyk Chopin International Piano Competition in Warsaw meant that he was the only Pole to reach the finals, which led to many invitations for concerts from Poland and abroad.

Currently a student of Professor Stefan Wojtas at the Academy of Music in Bydgoszcz, he studied piano in the class of Olga Łazarska at the Mieczysław Karłowicz Primary Music School in Krakow and at the Fryderyk Chopin Secondary Music School in Krakow for 11 years. Nehring regularly participates in competitions and festivals. His recent achievements include First Prize and six Special Prizes at the Halina Czerny-Stefańska in Memoriam International Piano Competition in Poznań (2014) and First Prize at the Arthur Rubinstein in Memoriam Competition in Bydgoszcz (2014). In October 2015 he performed in the finals of the 17th Fryderyk Chopin International Piano Competition, winning an Honourable Mention, the Audience Prize as well as a number of extra prizes, including awards for outstanding artistic creation and for his contribution to Polish music.

His debut CD, featuring music by Polish composers, was released in November 2015 and received the Fryderyk Award 2016 from the Polish Phonographic Academy (in the category Album of the Year – Solo Recital), the Joker from Crescendo magazine, and the Supersonic Award from Pizzicato magazine. In December 2015 Nehring embarked on a concert tour with the Santander Orchestra, playing Chopin's Piano Concerto in E Minor in Poland's best concert halls in Lusławice, Wrocław, Katowice, Warsaw and Szczecin. He performed with the same orchestra during the 20th edition of the Ludwig van Beethoven Easter Festival in Warsaw in March 2016, playing Rachmaninoff's Rhapsody on a Theme of Paganini, Op. 43
The artist has given concerts in such countries as Russia, Estonia, Ukraine, Hungary, Austria, Germany, France, Norway, Italy, and Canada.
His upcoming concert plans include performances in South America, China, France,
and the United Arab Emirates, and in many cities all over Poland.
Szymon Nehring is a recipient of scholarships from the Pro Musica Bona Foundation (since 2010) and the Ministry of Culture and National Heritage (2010). In 2015 he received
a Krystian Zimerman scholarship.
---