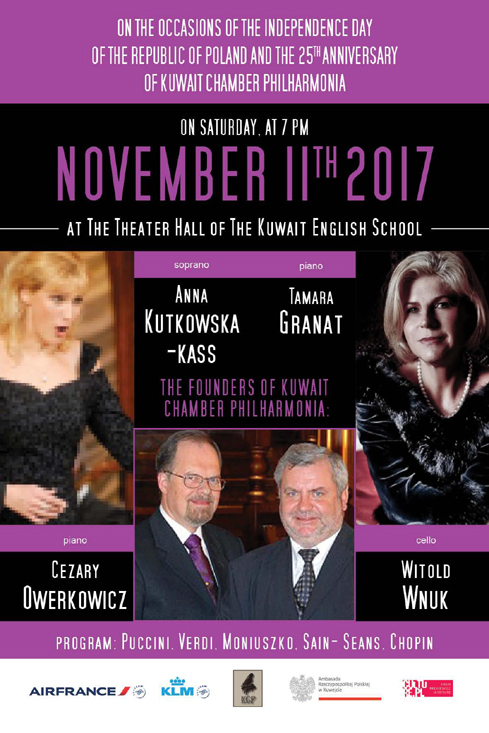 ---
PROGRAM
Frederic Chopin - Waltz in C sharp minor Op.64. No 2
Cezary Owerkowicz [piano]
Camille Saint-Saens - Swan
Witold Wnuk [celo], Cezary Owerkowicz [piano]
Frederic Chopin - The Wish
Stanisław Moniuszko - The Spinner Woman
Stanisław Moniuszko - When he will be back
Frederic Chopin - Waltz in A flat major op.64 Nr.9
Stanisław Moniuszko - Ewa's aria from "Hrabina" opera
Giacomo Puccini - Oh mio babino caro aria from "Gianni Schicchi" opera
Wolfgang Amadeus Mozart - Queen of the Night aria from "The Magic Flute" opera
Frederic Chopin - Nocturne in E-flat major op.9 nr.2
Gioacchino Rossini - Rosina's aria from "The Barber of Seville" opera
George Gershwin - Summertime aria from "Porgy and Bess" opera
Charles Gounod - Juliet's Waltz Song from "Romeo and Juliet" opera
Wolfgang Amadeus Mozart - Rondo Alla Turca
Ernesto de Curtis - Come back to Sorento
Frederick Loewe - "I could have danced all night" from "My Fair Lady" musical

Anna Kutkowska-Kass - coloratura soprano
Tamara Granat - piano
---
ANNA KUTKOWSKA-KASS soprano coloratura
Her repertoire features the majority of arias and songs written for soprano with coloratura. Her opera debut took place in Warsaw's Great Theatre - National Opera where she was cast as Queen of the Night in the premiere performance of "The Magic Flute" directed by famous Polish conductor Kazimierz Kord. Subsequently, she appeared as Queen of the Night in the opera houses in Poznan and Lodz in (Poland), before returning to the National Opera to perform "The Magic Flute" in Polish, as well as play the part of Hanna in "The Haunted Manor" opera by Polish composer Stanisław Moniuszko. In the National Opera in Warsaw, she presented Moniuszko's songs in performance "¦piewnik Domowy Moniuszki". The result of her artistic cooperation with Silesian Opera in Bytom was the role of Donna Anna in Mozart's "Don Giovanni" and Hanna in "The Haunted Manor".
TAMARA GRANAT piano
The founder and leader of Duo Granat. Over the course of her career, she has recorded 13 albums, 12 DVDs and numerous pieces for the Polish Radio and Television. She has also performed in various European countries, in the USA (Kennedy Center - 1991, Lincoln Center - 2005), in Russia (International Piano Duo Festival in Yekaterinburg - 1991) and Indonesia (2000). Duo Granat has performed on several occasions at the National Philharomic in Poland (1996, 2001, 2011, 2013). Together with the NOSPR orchestra in Katowice, the duo recorded Mozart's E-flat Major concerto and various pieces by 20th century comoposers. The duo has performed alongside conductors from all over the world, including: Jan Krenz, Andriej Boreyko, Wojciech Michniewski, Mika Eichenholz, Wojciech Rajski. For their recording of J.S. Bach's concertos (DUX 0188), Duo Granat was presented with the Polish music industry award - Fryderyk - in 2000. The following year, the duo was nominated for the same prize for their recording of various pieces by Paderewski.
---

Organised in collaboration with the Adam Mickiewicz Institute as part of the Polska Music program.
---
ARAB TIMES article: Kuwait Chamber Philharmonia celebrates 25th anniversary